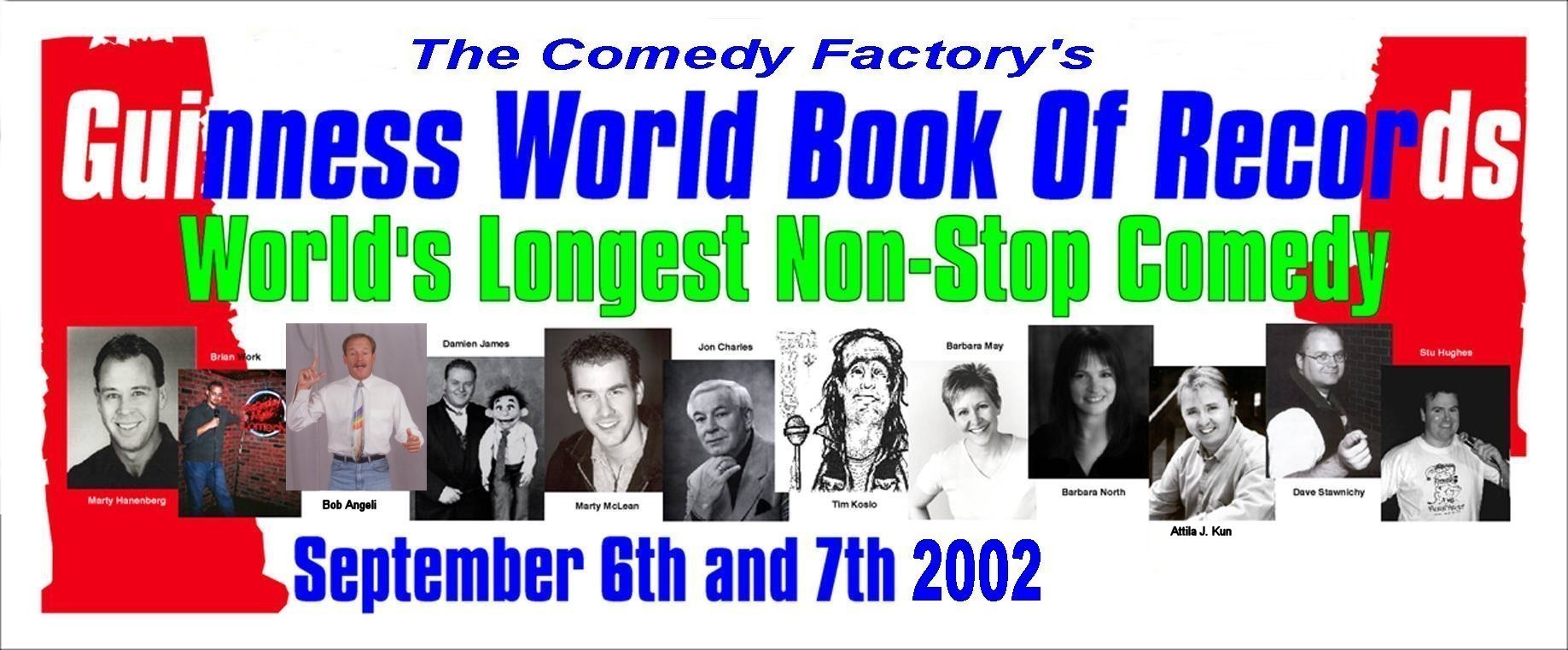 What Bob Angeli is proposing is a real laughing matter. This weekend, Angeli, proprietor of The Comedy Factory, will hold court over an attempt to set a Guinness record for the longest non-stop comedy performance.
The attempt will begin at 8 pm Friday, September 6th and continue through midnight September 7th. That's 28 hours of standup comedy, ventriloquists, improvisation, magicians and jugglers.
Just juggling the logistics and the lineup has been a feat unto itself. "Guinness has officially endorsed the attempt, but to meet their criteria we had to find ways to keep the show rolling continuously," he explains. "We're only allowed to take one 15-minute break every eight hours." To ensure that the performance is indeed continuous, the 250-seat performance space at The Comedy Factory at Gateway Entertainment Centre just off Calgary Trail North and 34th Avenue will be specially adapted. "We're splitting it in half and there will be two stages," he says. "When one performance ends, the other will begin and we'll hand off like that through the course of the marathon."
The idea for the attempt came to Angeli this spring when a local golf pro attempted the most rounds of golf in one day. "I thought, Guinness record, why not? Edmonton is a risktaking town and always tremendously supportive of the arts, its festivals and sports. Running a comedy club is all about taking risks."
For Angeli the risktaker and the comedian, the gamble on laughter began precisely two years ago when he opened his independent The Comedy Factory, going up against Yuk-Yuk's Comedy Kabaret, a giant in the industry of ha-ha. "Promoting the venture is certainly important because The Comedy Factory name has to be out there and this has some profile but it's also something about pride," he says. "This is about setting a record right here in Edmonton."
The event will feature funny men and women from across the country, including Toronto's Dez Reed and local comics Bob Beddow, Tim Koslo and two Martys – Hanenberg and McLean. Beddow's quick wit and versatility, Koslo's sideways look at life, Hanenberg's spontaneity and McLean's exceptional timing are sure to make the hours just zip on past.
Also appearing will be Barbara North, whose unique Jim-Carrey-meets-Andrea-Martin style has won awards in Yuk Yuk's Search for Canada's Funniest New Comic Contest. She comes complete with her own cast of characters, including Curlene the Country Crooner and Madame X the Discount Psychic.
The 28-hour run will also include Edmonton magician Jon Charles, who has been performing illusions for more than 25 years and more than 16 years entertaining patrons at the Japanese Village restaurant. Attila - Canada's Leading Hypnotists with his European style Comedy Magic Show. Attila has performed around the world and for such stars as Arnold Schwarzenegger. Ventriloquist Damien James will appear to throw his voice around.
The idea, as Angeli explains it, is an event with something for everybody. "We wanted to incorporate as much variety as possible and so we'll have improv, magic, ventriloquists and lots of surprises."
An independent auditor will verify the exact start and stop times and that information will be used by Guinness to determine if the attempt sets a record and, if it does, deserves inclusion in the upcoming edition of the Guinness Book of World Records.
There will be a $15 cover charge for each two-hour performance segment but will be reduced to $10 with a donation of a non-perishable food item to the Edmonton Food Bank. A pass for the entire event is $35.
There's going to be a lot of sore ribs and tired eyes after 28 continuous hours of comedy. If it's successful, Edmonton will have laughed its way right into the record book.